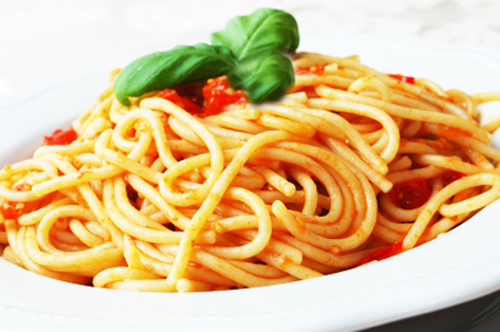 Yesterday I've got two new arrivals and I thought it may interest all pasta lovers :)
In online shop Grymgrossiten (it's Swedish, but has their business also in Norway) I bought two types of pasta - low carb and no calories pasta (or miracle pasta).
I bought that low carb pasta in two forms - penne and fussili
First one, low carb pasta is a variation of a normal pasta, based not on a typical flour but on proteins from soya, pea and wheat. By this it is very rich in protein (62 g in 100g of product) and low in carbs (13g in 100 grams of product). It has similar calories value as a normal pasta (323 kcal in 100g).
who doesn't like a bowl of pasta with aromatic tomato souse? :)
It is a great idea to mix half a cup of low carb pasta with half a cup of whole grain pasta. By this we will get healthier alternative to simple pasta dish, much more rich in protein but at the same time we will provide our body carbohydrates (which are also very important). Just add a home-made tomato souse (chopped tomatoes, fresh garlic, basilica&oregano) and you have a great dish to serve :)
shirataki is sold in different packages but basically all contains the same product with the same nutrition value
Second product is just even more interesting! A pasta with almost no calories in it! Shirataki has only 5 kcal in 100 grams of product which is most the calories from fiber (0g of carbs, 0g of protein, 0g of fat).
no calories pasta out from pack :)
How is it even possible? These kind of asian noodles is made from plant konjac (so, surprisingly it is a natural product!) and it contains most of water and fibre.
shirataki noodles with chicken and vegetables
Shirataki is translucent and gelatinous. It can be used as a ingredient of low in calories dishes, but because it has no taste itself it takes the taste of other ingredients with which you are preparing it (for example a taste of a soup). You can served it with chicken and vegetables and spiced it with soya souse.
And what if you can't or don't want to buy some fancy pastas? Simple, try at least to use a whole grain one and cut a little your portion :)
Bon appetit!