The beginning of new year is a perfect time for goals setting. If you waited for some sign to start - THIS is it!
Chalene Johnson's great (and free) workshop of goal setting and achieving
Two years ago I become aquaintance with Chalene Johnson, guru of goals-setting in a skirt (the male guru in this area is for me, of course, Brian Tracy). I made 30 days challenge which was about goal setting, how to construct them that they can be achievable in the future. From that moment I am always doing to-do list. Not only with my big stuff, also with the daily ones.
Goals elementary
* First thing about goals is to write them down! Then they are becoming goals, not only dreams.
* Make your goals SMART: Specific, Measurable, Assignable, Realistic and Time-Based

* Remember about Pareto principle: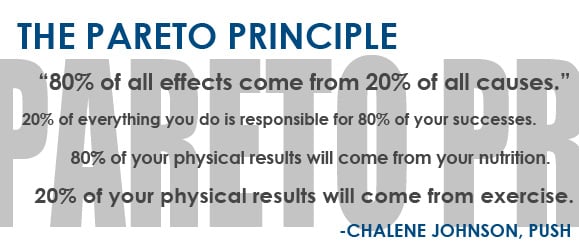 * Make a list of 10 main goals for the year and then make smaller one for one month, week etc. - achieving one of the smaller golas should bring you closer to you bigger goal (for example, in weight loosing - loosing 2 kg should bring you closer to healthier body and target weight))
* Give yourself a time for achieving goals - all fitness and health related goals should be for no less than 6 months - this time will give you possibility for long lasting changes
dedication is the key
If you are looking for some tips, check related articles:
* how to find a proper gym -
http://nordicfitnesss.blogspot.no/2012/07/how-to-find-proper-gym-in-norway-and.html
* how to burn fat - http://nordicfitnesss.blogspot.no/2012/11/burn-that-fat.html
* how to be thinner and healthier in few easy steps - http://nordicfitnesss.blogspot.no/2012/11/want-to-be-thinner-and-heathier-where.html
* how important is planning - http://nordicfitnesss.blogspot.no/2012/10/failing-to-plan-is-planning-to-fail.html
* how to train at home - http://nordicfitnesss.blogspot.no/2012/09/at-home-training_29.html
* how to start a food journal - http://nordicfitnesss.blogspot.no/2012/08/food-journal.html
* How to be fit for life - http://nordicfitnesss.blogspot.no/2012/08/fit-for-life.html